Welcome to the 2007-2008 season ... BAND OF BROTHERS!
---
Photo courtesy of Team Mom Shop
Posters available for purchase through Team Mom Shop or in the Activities office at Grandview.
Send an e-mail to candy@teammomshop.com

12x18 poster $24.95 - other sizes also available
---
No 1 in Colorado
(May 20, 2008)
Sports Illustrated released their list of top prep athletic schools in the nation for 2007-08 and Grandview is number one in Colorado. The Wolves won team state championships in football, volleyball, poms and girls soccer. They finished second in boys soccer and third in wrestling.
Centennial League Champs
(May 16, 2008)
Grandview High School won their sixth consecutive League Championship during the 2007-08 season. Coach Maestas was recognized as Centennial League Coach of the Year and the Wolves had 4 wrestlers recognized on first team All-Conference and 4 wrestlers named on the second team. more>
Gilmore Recognized As Outstanding Athlete
(May 13, 2008)
Grandview High School's Class of 2008 Senior Awards assembly was held on April 28, 2008 in the High School Auditorium.

Many awards were presented to the students by the faculty. This years Outstanding Athlete award was presented to Wolves wrestler and football State Champion, Cody Gilmore. Gilmore will attend the University of Northern Colorado this fall where he has signed a letter of intent to play football.

Wrestlers, Brian Timberman, Class of 2004, and Jon Brascetta, Class of 2006, are previous recipients of this award.
Aurora Sentinel's 2007-08
All-City Wrestling Team
(4/17/8)
The Aurora Sentinel's Courtney Oakes announced the 2007-08 All-City Wrestling Team on April 17. Grandview has seven wrestlers selected to the first team. John Godin (103), Eric Wilson (112), Patrick Brown (135), Cody McCutcheon (160), Jacob Bomareto (189), Penn Wade (215) and Cody Gilmore (285). Bryce Lucherini (152) was named Honorable Mention. (more ->)
Denver Post All-Colorado Team
(April 4, 2008)
The Denver Post released their selections for their All-Colorado, All-State and Honorable Mention wrestlers from the 2007-08 season. (more ->)
RMN All-Colorado Team
(March 20, 2008)
The Rocky Mountain News All-Colorado team, without regard to year in school or classification, is selected by Rocky staff, with input from Tim Yount of On The Mat and the state's coaches. Grandview's Eric Wilson (112) and Cody Gilmore (285) are recognized. (more ->)
Athlete of the Week
(February 28, 2008)
Rocky Mountain News sports writers, Scott Stockton and Gerry Valerio, selected Eric Wilson from Grandview as one of their two "Athletes of the week". (more ->)
State 2008
(February 21, 2008)
The 73rd Colorado High School Athletic Association State wrestling tournament got underway at 7:15 PM on Thursday night, February 21, for class 5A and Grandview won half of their matches in the opening round. (more ->)
Aurora Sentinel-Regis (2/21/8)
Aurora Sentinel-Title Shots (2/22/8)
Rocky Mtn News-Semi's (2/22/8)
Aurora Sentinel-Two Wolves (2/23/8)
Denver Post-5A (2/23/8)
Aurora Sentinel-Another Pair (2/27/8)
Aurora Sentinel-Satisfaction (2/27/8)
State Brackets Are Posted
(February 17, 2008)
State brackets have been posted on the CHSAA website. <brackets>

The 4A/5A preliminary round is scheduled to begin on Thursday at 7:15 PM.
Aurora Sentinel-State Brackets Set (2/17/8)
Denver Post-Prep Royalty (2/18/8)
Tim Yount Predictions (2/20/8)
Aurora Sentinel-Aurora Wrestlers (2/21/8)
8 to State
(February 16, 2008)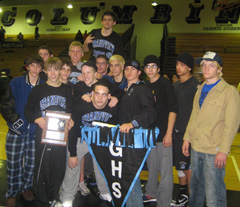 Grandview competed in Class 5A's Region 4 at Columbine High School on Friday and Saturday, February 15 and 16. The Wolves had 10 wrestlers win a CHSAA ribbon for placing in the top six and the team finished in second place, 5 points behind the 2008 Regional Champions from Centaurus High School. The Wolves had 3 champions, 3 thirds, 2 fourths, 1 fifth and 1 sixth place finisher. The top four place finishers qualify for the State tournament that begins on Thursday, February 21 at the Pepsi Center. Grandview qualified 8 for State. (more ->)
Streak Ends At 42
February 8, 2008
Grandview took a six year, 42 consecutive Centennial League win streak to Boulder High School on Thursday, February 7 and lost 30-37. The Wolves were missing 4 starters in the lineup. Four wrestlers moved up a weight to create the most favorable pairings, three wrestlers stepped into the lineup and gave all they had to give, the Wolves forfeited one weight class and they still had a chance to win going into the final match of the dual. (more ->)
Howling Wolves
February 2, 2008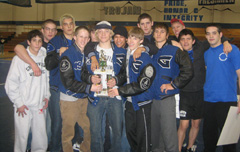 THORNTON | The center of a wolf's universe is its pack, and howling is the glue that keeps the pack together. (more ->)
Wolves Beat Smoky
February 1, 2008
Grandview hosted the much improved Smoky Hill Buffaloes on Thursday, January 31 and came away with a 49-27 win.
(more ->)
Brown, Wilson Win
1/27/2008 10:16:00 AM
GILCREST | Grandview took a road trip to Valley High School in Gilcrest on Saturday, January 26, 2008 to compete in the Valley Invitational Tournament. Gilcrest is located between Ft Lupton and Greeley on highway 85 and deep in the heart of Colorado High School wrestling. Number eight ranked Berthoud, 4A, won the tournament. (more->)
Wolves Win At Creek
January 24, 2008
Grandview continues their quest for a sixth consecutive conference title with a 52-18 win at Creek on Thursday night. The next league dual is Thursday, January 31 against Smoky Hill at Grandview.
Gilmore Takes Third
Aurora Sentinel Article ... click here
1/20/2008 11:06:00 AM
LAFAYETTE | The Wolves finished in 21st place in the field of 33 teams at the "tougher than state" Top Of The Rockies tournament that was held at Centaurus High School on January 18 and 19. (results)
Arvada West Tournament
1/12/2008 11:57:00 PM
By Courtney Oakes
The Aurora Sentinel

ARVADA | With just a month left before the Class 5A state wrestling tournament, Grandview is rounding into form. (more)
Grandview Wins at Fairview
January 9, 2008
Grandview wrestled at Fairview in Boulder on Wednesday, January 9 and won 40-26. (more)
Wolves Win Moffat Duals
January 5, 2008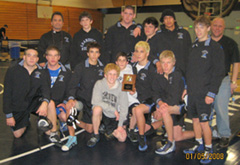 A well coached Class 3A Florence team came close to winning the first place trophy at the Moffat County Duals on Saturday, January 5, 2008 but saw it snatched away by Grandview in the final match of the dual. (More)
High School at Reno
12/19/2007
Bryce Lucherini (152) and Cody Gilmore (285) advanced to day two in the tough Reno Tournament of Champions. Reno Tournament of Champions, more>
Eaglecrest at Grandview
12/14/2007
Eaglecrest traveled to Grandview on Thursday, December 13, 2007 with hopes of breaking the five time consecutive conference championship streak that the Wolves are enjoying. more
Grandview Duals
December 8, 2007
The Grandview Duals were held on Saturday, December 8. Grand Junction could not make the trip through the high country due to bad weather conditions. Team finishes ... Grandview, Longmont, Pomona, Durango, Thunder Ridge, Rangeview, Air Academy, Regis and Denver East. (Results)
Courtney's Team-By-Team Look
12/6/2007
The Aurora Sentinel & Daily Sun's Prep Sports Columnist, Courtney Oakes, continues to provide in depth coverage for Aurora High School wrestling. Here's what Courtney says about Grandview in "A team-by-team look at the city's wrestling teams" for the 2007-2008 season. more
---
2007-2008 Dual & Tournament
Schedule & Results
Varsity Dual Record 16 - 1
3rd Place Team Finish @ Colorado State 5A