---
A well coached Class 3A Florence team came close to winning the first place trophy at the Moffat County Duals on Saturday, January 5, 2008 but saw it snatched away by Grandview in the final match of the dual.

The Wolves jumped out to a quick 6 point lead with decisions at 119 and 125 by Michael Balagna and Joe Tripp. Grandview's 135 and 160 pound wrestlers did not make the trip and Florence took advantage of the 12 point forfeits combined with pins at 130, 140 and 152 and a decision at 171 for a 33 to 12 lead going into the 189 pound match. Jacob Bomareto won by fall at 189 and Penn Wade won by decision at 215 to pull the Wolves within 12 points ... 21 to 33.

With 3 matches remaining, Florence decided to make a run for it in the 285 pound weight class. Class 3A, 215 pound, second ranked Tanner Wilcox moved up to 285 and it was clear that his instructions were to stay away from Class 5A second ranked Cody Gilmore and he was successful in evading Gilmore for three periods and only gave up the 3 point decision which brought the score to 24 - 33.

With two matches remaining, Florence decided to go for the win at 103 pounds. Florence's Jacob Cole jumped out to a quick five point lead against the Wolves John Godin with a takedown and 3 near fall points in the first period. It looked like the decision to go for the win would pay off but, the many years of experience in the Wolves youth wrestling program paid off for Godin in the way of patience and technique. Godin got a quick reversal to start the second period and he threw Cole to his shoulders and held him there until the referee finally got in position to make the call ... fall at 2:30. Godin's 6 team point win set the table for the Wolves to win the dual ... and the tournament, outright.
With one match remaining and the score 30 - 33, Florence could not afford to lose the final match at 112 by more than 7 points or they would lose the dual and the first place trophy. The Wolves Eric Wilson took a 7-2 lead and the down position into the third period. Wilson got a quick reversal and turned Florence's Kyle King to his shoulders for the fall and the Wolves won the dual 36-33 and the first place trophy.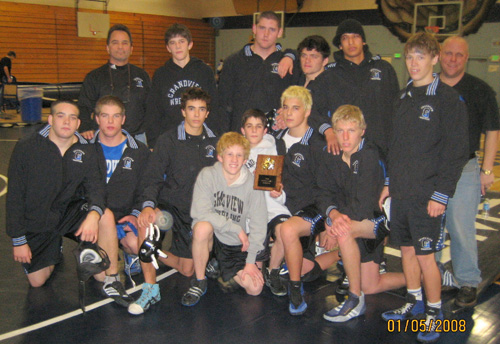 GRANDVIEW 36 FLORENCE 33
119 - Michael Balagna (WD 6-2) vs Derek Tucker
125 - Joe Tripp (WD 9-3) vs Cody Matthewson
130 - Bryce Barrick (LBF1) vs Andrew Addington
135 - Forfeit vs Nate Halpin
140 - Matt Fedderson (LBF1) vs Matthew Addington
145 - Josh Starr (WBF2) vs Matt McDowell
152 - Bryce Lucherini (LBF3) vs Steve Hanson
160 - Forfeit vs Tony Magno
171 - Enes Ozekin (LD 7-10) vs Scott Campbell
189 - Jacob Bomareto (WBF2) vs Bret Keyttes
215 - Penn Wade (WD 7-6) vs Jon Medley
285 - Cody Gilmore (WD 1-0) vs Tanner Wilcox
103 - John Godin (WBF2) vs Jacob Cole
112 - Eric Wilson (WBF3) vs Kyle King
WBF2 = Win By Fall, 2nd Period - 6 Team Points
WTF = Win Tech Fall (by 15) - 5 Team Points
WMD = Win Major Decision (by 8 to 14) - 4 Team Points
WD = Win by Decision (less than 8) - 3 Team Points