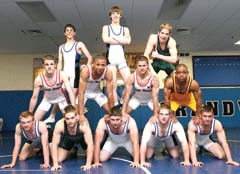 Heather A. Longway-Burke/The Aurora Sentinel

Members of the 2007-08 Aurora Sentinel All-City Wrestling team pose on April 9 in the Grandview wrestling room. Top row (left to right): John Godin (Grandview), Eric Wilson (Grandview), Nolan Myers (Smoky Hill); Middle row (left to right): Danny Bieshaar (Regis), Denzel Washington (Regis), Powell Slinkard (Regis), Justin Freeman (Gateway). Bottom row (left to right): Patrick Brown (Grandview), Ethan Myers (Smoky Hill), Cody Gilmore (Grandview), Penn Wade (Grandview), Cody McCutcheon (Grandview). Not pictured, Jake Bomareto (Grandview).
2007-08 AURORA SENTINEL
ALL-CITY WRESTLING TEAM
103 pounds

John Godin, Grandview, soph. (23-12)

112 pounds

Eric Wilson, Grandview, jr.* (39-5)

119 pounds

No state qualifiers

125 pounds

Nolan Myers, Smoky Hill, sr. (43-7)

130 pounds

Danny Bieshaar, Regis, sr. (45-6)

135 pounds

Patrick Brown, Grandview, sr. (24-7)

140 pounds

Powell Slinkard, Regis, jr. (33-13)

145 pounds

Justin Freeman, Gateway, jr. (33-9)

152 pounds

Denzel Washington, Regis, fr.* (36-7)

160 pounds

Cody McCutcheon, Grandview, sr. (16-14)

171 pounds

Ethan Myers, Smoky Hill, sr. (33-11)

189 pounds

Jake Bomareto, Grandview, jr. (26-17)

215 pounds

Penn Wade, Grandview, jr. (33-14)

285 pounds

Cody Gilmore, Grandview, sr.* (38-4)

* - State champion

Honorable mention

Daniel Armijo, Aur. Central, sr.; Zach Atencio, Regis, jr.; Josh Christopher, Overland, jr.; Joe Jones, Smoky Hill, sr.; Daniel Jordan, Cherokee Trail, sr.; Bryce Lucherini, Grandview, sr.; Ty Mackey, Rangeview, sr.; LaDaris Mungin, Gateway, soph.; William Montrey, Aur. Central, fr.
---
Winter All-City: Championship trio sets solid All-City wrestling base
Grandview winners Wilson and Gilmore, Regis' Washington solidify Aurora's mat best

By Courtney Oakes
The Aurora Sentinel

Aurora's contingent at the state wrestling tournament was smaller than usual with just 22 qualifiers, but there was plenty of cream to rise to the top.

With Class 5A state champions in Grandview's Eric Wilson and Cody Gilmore and Regis freshman Denzel Washington among four finalists, the 2007-08 Aurora Sentinel All-City Wrestling Team has more firepower than ever.

For the second time in three seasons, Grandview had a pair of state champions, as junior 112-pounder Wilson and senior heavyweight Gilmore secured wins at the 5A state tournament at the Pepsi Center to join 2006 winners Jon Brascetta and Curtis McNary as Wolves' state winners. They led coach Greg Maestas' team to third overall.

Wilson came into the tournament ranked third, but defeated two state champions - Rocky Mountain's Jeremy Schmitt and Northglenn's Philip Grout - to finally earn his title. He pinned Schmitt in overtime in the semifinals and won a 2-0 overtime decision over Grout in the 112-pound final.

"I was No. 3 all year and I was happy because I was the underdog and could give it all against those two guys and not worry about it," said Wilson, who won his last 20 matches to finish 38-5 overall. "The pressure was on them to beat me, so I just went out there to take it."

Wilson credited improved endurance, technique and some new takedown moves for his vast improvement.

Gilmore's treasure haul for his senior year included a gold medal for his state wrestling title and a ring from playing nose tackle on Grandview's 5A state champion football team, which beat Douglas County at Invesco Field.

Gilmore went 0-2 last season in his state debut, but the athletic big man fully dedicated himself to his quest for the two titles. He placed third at the Top of the Rockies, pinning Ponderosa's Taylor Stamm, 5A's No. 1 who beat him twice earlier in the year.

Three quick pins got Gilmore to the state championship match, where he didn't see Stamm, who lost to Sand Creek's Ray Hatchett in the semifinals. Gilmore handled Hatchett 4-1 to win the state crown and finish 38-4 overall.

"It was a crazy year, so I knew anything could happen," said Gilmore, who will play football at Northern Colorado next year. "It's always stressful in the finals with all these people and the surrealness, but it feels great to have all the hard work pay off."

Grandview senior Patrick Brown almost made his hard work pay off by making the 135-pound final, but Pomona's Nick Jones, a returning state champion, was too much for him in a 15-3 major decision.

The state highlight for Brown, who placed for the first time in three state trips, was a 1-0 triple-overtime semifinal win over Ponderosa's Austin Gabel. He was 24-7 overall.

Senior Cody McCutcheon (160 pounds), junior Jake Bomareto (189 pounds) and junior Penn Wade (215 pounds) all made the state tournament for the first time.

Wade had two pins in the consolations to finish 33-14. McCutcheon went 0-2 at state to finish 16-14 overall, while Bomareto was 26-17.

Sophomore 103-pounder John Godin (23-12) came one match from placing.
Regis got its second state championship in as many seasons, as the precocious Washington followed 140-pound winner John Hooper by taking the 152-pound title.

The lanky Washington lived up to the immense hype he brought into the season due to his successful youth career, recovering from a fourth-place regional finish to win his four state matches and go 36-7.

He beat Ponderosa's Stephone Kling by a 5-2 decision in the final and immediately ignited talk of a possible run at four titles.

"I've just got to go back to the room and work even harder to come back and try to do it three more times," Washington said.

Washington's teammates Danny Bieshaar at 130 pounds and Powell Slinkard at 140 pounds were also the city's best at their weights.

Bieshaar was upset in the first round at state and didn't get to oppose Loveland's Tyler Graff in the final as expected, but he went 45-6 on the season. Slinkard won a regional championship and was 33-13.

Smoky Hill senior brothers Nolan and Ethan Myers earned spots on the All-City team at 125 pounds and 171 pounds, respectively.

Nolan Myers (43-7) finally placed at state, taking fourth and coming just one move away in his semifinal from the title match. He is headed to West Point to wrestle for Army next year, while Ethan Myers will play football at Nebraska Wesleyan after going 33-11 and finishing one match away from placing.

Gateway junior Justin Freeman lost his trip to state the year before in a wrestleback, but made sure he got to the Pepsi Center this season by making a regional final. He won his first round match and was 33-9 overall.