Welcome to the 2008-09 season ... ROAD TO GLORY!
---
Photo courtesy of www.TeamMomShop.com
Posters available for purchase through TeamMomShop.com, photo code 81050,
or in the Activities office at Grandview.
Send an e-mail to candy@teammomshop.com

18.75"x10" poster $29.95 - other sizes also available

---
Centennial League Champs
(4/24/9)
Grandview High School won their seventh consecutive League Championship during the 2008-09 season. The Wolves had 5 wrestlers recognized on first team All-Conference and 4 wrestlers named on the second team. more>
---
Aurora Sentinel's 2008-09
All-City Wrestling Team
(4/12/9)
The Aurora Sentinel's Courtney Oakes announced the 2008-09 All-City Wrestling Team on April 12. Grandview has six wrestlers selected to the first team. John Godin (112), Eric Wilson (119), Michael Balagna (125), Enes Ozekin (189), Penn Wade (215) and Jake Chatham (285). Josh Starr (152) was named Honorable Mention. (more ->)
---
Denver Post All-Colorado Team
(April 5, 2009)
The Denver Post released their selections for their All-Colorado, All-State and Honorable Mention wrestlers from the 2008-09 season. (more ->)
---
End of Season Banquet
Wednesday, March 4, 2009
at 6:30 PM
at Grandview Cafeteria
---
2009 State Championships
(Feb 19, 2009)
The 74th Colorado High School Activities Association State wrestling tournament got underway at 7:15 PM on Thursday night, February 19, for class 5A. Grandview won two of six matches in the opening round. Eric Wilson (119) and Penn Wade both won by fall. more ->

State Brackets ... click here!
---
A Six Pack
(Feb 14, 2009)
Six Wolves wrestlers continue on the "Road to Glory" by finishing in the top four of the sixteen wrestler brackets in Class 5A at Region 1 at Eaglecrest High School and will compete at the Pepsi Center in the opening round of the 74th Annual CHSAA State Wrestling Championships scheduled to begin at 7:15 PM on Thursday, February 19.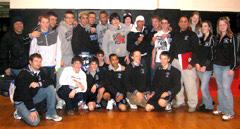 The unranked Wolves team finished third place behind second ranked Ponderosa and fourth ranked Pomona. more ->

State Brackets are posted ... click here!
---
7 Times
February 5, 2009
Grandview hosted Arapahoe for the first time in league action on Thursday night, February 5th in the final dual of the season and won 49-20. The Wolves finish the season with a perfect 7-0 record and they win their seventh consecutive Centennial League championship. more->

---
Wolves Win at Thornton
January 31, 2009
THORNTON | For the second year, Grandview competed at the Thornton Invitational Tournament. results>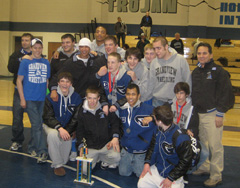 ---
Grandview 51, Eaglecrest 21
January 25, 2009
The Wolves traveled to Eaglecrest on Thursday, January 29 and won their sixth league dual of the season, 51-21. results>

---
Top of the Rockies
Boulder's Daily Camera ... 1/20/2009
Rocky Mountain News ... 1/24/2009

January 24, 2009
Grandview competed at the tough Top of the Rockies tournament at Centaurus High School in Lafayette for the seventh time and finished in fifteenth place in the field of 30 teams from Colorado, New Mexico, Utah and Wyoming. more> brackets

---
Wolves Win at Creek
January 22, 2009
Grandview wrestled their fifth league match of the season at Cherry Creek on Thursday night, January 22, 2009 and remain undefeated in the Centennial League with a 41-30 victory. results>

---
High School to Reno
The High School Team competed at the Reno Tournament of Champions again this year on Friday and Saturday, December 19 and 20 and finished in 23rd place with 74 points. 82 teams competed in the tournament. more>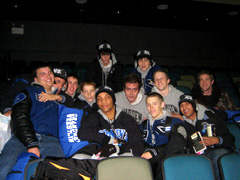 ---
Some Wolves wrestlers no gamble in Reno
by Courtney Oakes
12/20/2008
Grandview loses tournament final to Pomona, but readies for big trip to Nevada.
Story ->
---
Grandview Duals
Saturday - December 13, 2008
Team Results
Air Academy, Denver East, Durango, Grandview, Grand Junction, Lakewood, Longmont, Pomona, Rangeview, Regis

---
Winter Sports Preview
by Courtney Oakes
12/13/2008
The Aurora Sentinel & Daily Sun's Prep Sports Columnist, Courtney Oakes, continues to provide in depth coverage for Aurora High School wrestling. Here's what Courtney says about Grandview in "Winter Sports Preview: Eyes, expectations on city's wrestling champs" for the 2008-09 season. Story ->
---
2008-09 Dual & Tournament
Schedule & Results
Varsity Dual Record 0 - 0