---
Grandview wrestlers left Denver on Thursday morning, December 18, for the two day 2008 Reno Tournament of Champions. The team arrived at the Convention Center after noon and watched Grandview alumni Dan Brascetta compete in the college tournament for Oregon State.

The High School tournament started on Friday, December 19 and the Wolves were in 8th place after the first round even though they forfeited matches at 135 and 171.

Grandview had two wrestlers still alive in the championship round and two wrestlers who survived the final consolation round on Friday night for a record four advancing to the second day. Michael Balagna (119) lost in the first round on Saturday. Sean Burroughs (103) and Josh Starr (152) lost in the second round on day two and ended up one round away from medaling. Eric Wilson (119) went 2 and 2 on the second day and finished in 7th place to match Stephen Eberle's 2004 achievement and they are the only medal winners for Grandview in the five years the team has competed at the TOC.

Grandview finished in 23rd place with 74 points in the field of 82 teams from across the country. This is the best finish for a Grandview team.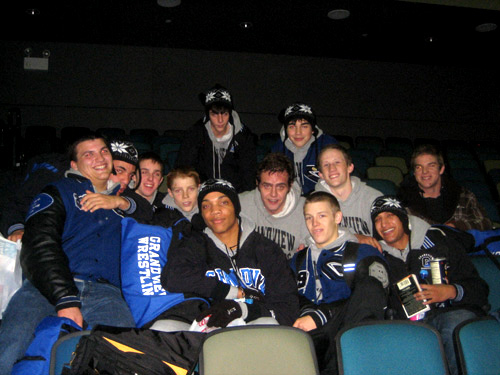 RESULTS
103 - Sean Burroughs (3-2)
vs Conner Aura, Foothill Pleasant (WBF2)
vs Joseph DeLeon, McQueen (WMD 10-1)
vs Gerritt Bradley, Springville (WD 1-0 OT)
vs Josh Walker, Union (LMD 0-9)
vs Estevan Soqui, Sunnyside (LD 1-6)
112 - John Godin (2-2)
vs Connor Adams, El Reno (WBF1)
vs Brett Boykin, Black Hills (WBF2)
vs Dominic Madril, Pomona (LMD 1-11)
vs Sam Jones, Ponderosa (LD 0-2)

119 - Eric Wilson (#12), (5-2) 7th Place
vs Brett Jones, Fallbrook (WD 6-2)
vs Ricky Castillo, Antioch (WMD 14-1)
vs Tommy Siciliano, Newburg (WD 10-8 OT)
vs AJ Valles, Selma (LD 3-8)
vs Ricky Hernandez, Bishop Gorman (WD 3-0)
vs Jeremy Hurley, Grundy (LBF2)
vs Sean Silva, Barstow (WD 4-1)

125 - Michael Balagna (3-2)
vs Mike Macuk, Crater (WMD 9-0)
vs Ethan Arvizu, Carlsbad (WBF3)
vs Kyle Wilson (#6), Colony (LMD 4-12)
vs James Young, Bishop O'Connell (WD 3-2)
vs Nick Burnham (#3), Black Hills (LD 0-1)

130 - Dan Godin (2-2)
vs Heath Greenlee, Barstow (WBF1)
vs Kyle Switzler, La Costa (LMD 3-14)
vs Dan Hill, Crater (WBF2)
vs Chris Gross, Wasilla (LBF3)

135 - Forfeit

140 - Jakob Fisher (0-2)
vs Anthony Acosta, Spanish Springs (LBF1)
BYE
vs Adam Rosso, Gilroy (LMD 1-9)

145 - Josh Boudar (1-2)
vs Conor Furey, Bishop O'Connor (WBF1)
vs Nick Waldrop, Freedom (LBF1)
vs Spencer Salinas, Columbia (LD 3-7)

152 - Josh Starr (5-2)
vs Joey Chandler (#4), Newberg (LBF1)
vs Ryan Knutson, Colony (WBF3)
vs Chris Hortin, Wasatch (WMD 10-1)
vs Jake Marshall, Wasilla (WMD 12-4)
vs Bruce Pfau, Bella Vista (WD 4-1)
vs Vincent Aboytes, Gilroy (WD 3-0)
vs Travis Gallegos (#7), Foothill Palo Cedro (LBF2)

160 - Matt Jones (1-2)
vs Josh Lujan, Redwood (WBF2)
vs Drew Digeser, La Salle (LBF1)
vs Jessie Hornbrook, North Medford (LBF2)

171 - Forfeit

189 - Greg George (1-2)
Bye
vs Alex Lovingfoss, Kelso (WD 11-6)
vs Jared Crouse, Phillipsburg (LBF2)
vs Joe Giron, Pomona (LMD 2-10)

215 - Penn Wade (2-2)
vs Diego Bravo (#2), Sunnyside (LD 1-5)
vs Evan Miller, Bishop Minogue (WBF3)
vs Chris Straubs, Bishop O'Connel (WD 3-1 OT)
vs Marco Delgado, Turlock (LD 2-3)

275 - Jake Chatham (2-2)
vs Max Keagle, Newberg (WBF1)
vs Jim Tersigni, Phillipsburg (LBF3)
vs Greg David, Turlock (WBF1)
vs Justin Grant, Easton (LD 2-3)