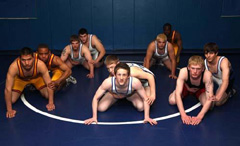 Members of the 2008-09 Aurora Sentinel All-City Wrestling team, back row from left, Grandview senior Penn Wade and Grandview senior Jake Chatham, Grandview senior Enes Ozekin and Gateway senior Brent Willis, front row from left, Gateway senior Renato Fierro and Gateway senior Justin Freeman, Grandview senior Michael Balagna and Grandview senior Eric Wilson and Eaglecrest senior Dan Moore and Grandview junior John Godin pose on April 6 in the wrestling room at Grandview. (Heather A. Longway/The Aurora Sentinel)
2008-09 Aurora Sentinel All-City Wrestling Team
103 pounds

Chris Buccieri, Cherokee Trail, soph.

112 pounds

John Godin, Grandview, jr.

119 pounds

Eric Wilson, Grandview, sr.*

125 pounds

Michael Balagna, Grandview, sr.

130 pounds

Dan Moore, Eaglecrest, sr.

135 pounds

Josh Christopher, Overland, sr.

140 pounds

Zach Atencio, Regis, sr.

145 pounds

Brent Willis, Gateway, sr.*

152 pounds

Justin Freeman, Gateway, sr.*

160 pounds

Renato Fierro, Gateway, sr.

171 pounds

Gordie Pisciotta, Regis, jr.

189 pounds

Enes Ozekin, Grandview, sr.

215 pounds

Penn Wade, Grandview, sr.*

285 pounds

Jake Chatham, Grandview, sr.

Honorable mention

Greg Conrardy, Cherokee Trail, jr.; John Crowley, Regis, fr.*; Gage Fell, Eaglecrest, jr.; Collin Gorham, Cherokee Trail, jr.; Ethan Hales, Cherokee Trail, jr.; Jeff Ibanez, Aurora Central, sr.; Ben Jordan, Cherokee Trail, jr.; Hunter McGuinnis, Rangeview, jr.; Matt Meyer, Smoky Hill, sr.; Shawn Miller, Smoky Hill, sr.; William Montrey, Aurora Central, soph.; LaDaris Mungin, Gateway, jr.; Phillip Nguyen, Aurora Central, sr.; Andrew Onorato, Regis, jr.; Matt Ritz, Eaglecrest, sr.; Powell Slinkard, Regis, sr.; Joshua Starr, Grandview, sr.

* — State placer
---
Wrestling: Wolves lead All-City wrestling hunt
Four state placers, six Grandview wrestlers part of Aurora's mat best in 2008-09

By Courtney Oakes
The Aurora Sentinel

Aurora couldn't match the three state championships it won at last season's Class 5A state wrestling tournament, but plenty of city wrestlers distinguished themselves on the Pepsi Center mats.

Grandview senior Eric Wilson — the only one of the city's 2008 state winners to wrestle at this year's state meet — got back to the finals, but he couldn't beat Northglenn's Philip Grout a second time on the big stage.

Wilson tops four state placers among the 14 members of the 2008-09 Aurora Sentinel All-City Wrestling team, which is based primarily on performance at the Feb. 19-21 5A state tournament at the Pepsi Center.

Grandview — which won its seventh straight Centennial League championship — landed six wrestlers on the all-city team, including five who helped the Wolves tie for 11th.

Leading the way again was Wilson, a University of Missouri signee who finished his prep career with three top-three places. The four-time state qualifier took third at 103 pounds as a sophomore, first at 112 pounds last season and second this season at 119 pounds.

Wilson's 43 wins this season — against just five losses, including two to Grout — boosted his four-year total to 139, the second-most in school history behind Ryan Budd (150). Wilson was Aurora's only regional champion.
The Wolves' other placer was senior Penn Wade, who won a city-best four matches to take fifth at 215 pounds in his second state trip. He was 40-9.

Rounding out Grandview's all-city contingent is junior John Godin (33-12 at 112 pounds), senior Michael Balagna (27-12 at 125 pounds), senior Enes Ozekin (12-12 as the city's only state qualifier at 189 pounds) and heavyweight Jake Chatham, who was ranked in the top five all season, but didn't make state out of a tough regional group.

Gateway matched Grandview with two placers, as seniors Justin Freeman (152 pounds) and Brent Willis (145 pounds) took fourth and sixth, respectively, for the Olys, who were 20th as a team.

Freeman went 3-2 in his second state trip and lost in overtime in the semifinals. He finished 33-9 on the season. Willis took advantage of a long-awaited trip to state by winning three matches to finish 31-6. The Olys' third all-city member is senior 160-pounder Renato Fierro, who finished one win short of the placing round. In just his second year of wrestling, Fierro was 26-9.

Regis' one state placer — freshman John Crowley — missed the all-city team after losing to Freeman in the consolation semifinals, but senior Zach Atencio (140 pounds) and junior Gordie Pisciotta (171 pounds) represent the Raiders. Atencio and Pisciotta each went 1-2 at state to finish 35-9 and 31-9, respectively.

Cherokee Trail sophomore Chris Buccieri (103 pounds), Eaglecrest senior Dan Moore (130 pounds) and Overland senior Josh Christopher (135 pounds) round out the all-city team.

Christopher placed sixth in 2008, but couldn't duplicate that performance, going 2-2 to finish 30-5 on the season.

Buccieri helped Cherokee Trail to a big Centennial League debut and he won twice at the Pepsi Center to finish 35-8 overall. He fell one win short of earning a chance to place.

Moore won twice in his first state trip to finish with 104 career victories.