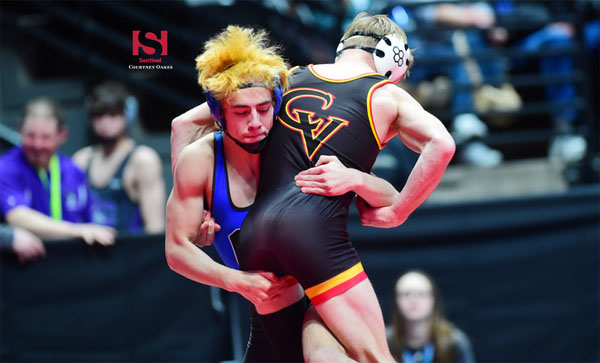 Grandview junior Alex Santillan, left, lifts Castle View's Noah Fitzgerald on his way to 15-1 major decision victory in a 126-pound 1st round match at the Class 5A state wrestling tournament on Feb. 21, 2019. (Photo by Courtney Oakes/Sentinel)
DENVER | Grandview's push for its highest finish at the Class 5A state wrestling tournament got off to an outstanding start in Thursday's opening round at Pepsi Center.
Six of the Wolves' Aurora-best nine qualifiers earned their way through to Friday's 12:45 p.m. quarterfinals with opening round victories — part of an 18-11 showing by Aurora wrestlers in the preliminaries — and coach Ryan Budd's team is perched in the No. 2 spot in the team standings.
Senior Fabian Santillan started his quest to win back-to-back state championships with a win by technical fall in a 138-pound first round match, seniors Matthew Frye (145), Dylan Ranieri (152) and Brice Hartzheim (170) plus junior Joseph Renner (195) all won by fall, and junior Alex Santillan (126) captured a major decision to give Grandview a heavy presence in the second round.
Fabian Santillan won his fifth consecutive match at the state tournament — following his 4-0 run to the 126-pound crown last season — with a commanding 17-1 technical fall victory over Northglenn's Angel Alvidrez. Santillan's 45th-win of the season put him into a quarterfinal against Pine Creek's Brayden Roman.
Returning state placers Ranieri and Renner both posted tidy pins, over Chaparral's Cameron Cline and Pomona's Samuel Bruno, respectively, with Renner needing just 38 seconds to record his. Ranieri will face Valor Christian's Jack Howell in the quarterfinals, while Renner is pitted against Castle View's Jack Smith.
Alex Santillan, another returning state placer, had little difficult with Castle View's Noah Fitzgerald in a 15-1 major decision. He will oppose Poudre's Dean Noble in a 126-pound quarterfinal in an attempt to make the semifinals for a second straight season.
Frye and Hartzheim each went 1-2 at last season's state tournament and both matched that win total with crisp first round victories.
Frye came up just short of Renner for fastest match of the night when he used 42 seconds to put down Pine Creek's Jace Graves, with the victory earning him a chance to face Regis Jesuit's Antonio Segura in an all-Aurora 145-pound quarterfinal. The winner of that is likely to face Pomona's Theorius Robison — who is attempting to win his fourth state championship — in the 6:45 p.m. semifinals.
Hartzheim's win by fall late in the first period over Mountain Vista's Lance Betts put him in the exact same position as last year at state, with a rematch against Grand Junction's Jay Skalecki. Skalecki won an 8-5 decision over Hartzheim last season in the quarterfinals and went on to place third, while Hartzheim lost in the consolation bracket.
The Wolves nearly had a seventh wrestler move through, but sophomore 106-pounder Frankie Sanchez gave up a late takedown to Mountain Range's Ronnie Ortiz for a 5-4 loss.
Junior Isaac Smith (182 pounds) and freshman Angelo Falise (220 pounds) both lost by fall in the opening round and are part of a group of 11 Aurora wrestlers who have dropped into the consolation portion of the bracket, which will wrestle after the championship quarterfinal round.