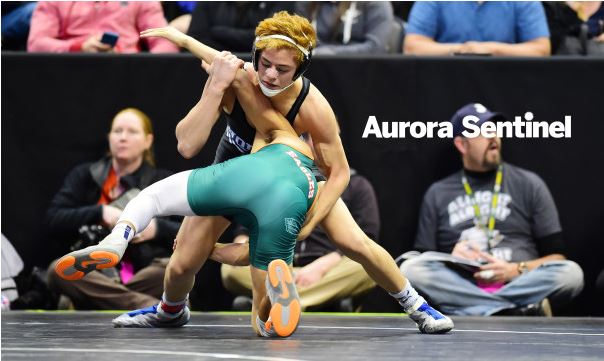 DENVER
| As a freshman in his first trip to the Class 5A state wrestling tournament, Grandview's Fabian Santillan admitted nerves got the best of him early, even though he won his first two matches at the Pepsi Center.
But on the big stage in the semifinals on Friday night, the Wolves' standout felt at ease as he took on Adams City senior Fabian Gutierrez — the top seed in the bracket — for a spot in Saturday's 113-pound state championship match.
Gutierrez (44-3) escaped with a 7-5 victory over Santillan, but not before the Grandview youngster made him sweat. Santillan had a lead as large as three points in the second period, but couldn't hold it.
"The first two matches, my nerves were all up in me," Santillan said. "This one, I felt like I'm a freshman, he's a senior, so he's the one who should be nervous. It's his last chance."
While the nerves were good, a slight tactical error changed the match from Santillan's standpoint.
He held a 5-4 lead after two periods, but thought he was trailing and allowed Gutierrez an easy escape to start the period, which tied the score at 5-5.
Gutierrez wasted little time in getting the go-ahead takedown and was able to ride Santillan out for the remaining 1:30 on the clock.
"I didn't have very good mat awareness, I was actually up by one point, but I thought I was losing by one point," Santillan said. "That might not have changed the outcome much, but it would have changed the way I wrestled."
Santillan drops into the consolation bracket, where he still has a chance to work his way into the third-place match.
He will face the winner of the third round consolation match between Pomona's Justin Pacheco and Rocky Mountain's Josh Nira — who Santillan beat 8-3 in the first round — for a trip to the third-place match.
"I've wrestled pretty good this tournament, so I'm proud about that," Santillan said. "I'm confident I can work my way back."
Courtney Oakes is Sports Editor of the Aurora Sentinel. Reach him at 303-750-7555 or sports@aurorasentinel.com. Twitter: @aurorasports. FB: Aurora Prep Sentinel