---
Regional 2 Tournament @ Westminster High School
6933 Raleigh Street
Westminster, CO 80030
February 11 & 12, 2011
Central (GJ), Columbine, Eaglecrest, Ft. Collins, Gateway, Grand Junction, Grandview, Lakewood, Northglenn, Overland, *Pomona, Rangeview, Regis, Rocky Mountain, Thomas Jefferson, Westminster

All classes, all Regionals
---
Grandview competed in Class 5A's Region 2 at Westminster High School on Friday and Saturday, February 11 and 12. The Wolves had 7 wrestlers win the traditional CHSAA ribbon for placing in the top six and the team finished in fifth place. The Wolves had 1 champion, 2 seconds, 1 third, 2 fifths and 1 sixth place finisher. The top four place finishers qualify for the State tournament that begins on Thursday, February 17 at the Pepsi Center. Grandview qualified 5 for State.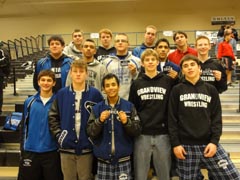 Because Regional seedings are based on record and not head to head results, Sean Burroughs found himself on the same side of the 140 pound bracket as Pomona's Archie Colgan and the two met for the third time this season in the semi-finals match. Burroughs shut down Colgan's outside attack, rode him in the overtime period and escaped for the win and his first victory over Colgan this season. Burroughs won the championship match 7-3 over Fort Collins' Brandon Dunnum. Josh Federico met Pomona's Josh Rosales for the third time this season in the championship match. After spotting Rosales 5 points early in the first period, Federico dominated the next two periods and came up on the short end of a 7-5 decision. Burroughs and Federico were presented their second brick in recognition of their qualification for the State tournament.

Senior Pavlo Ivanusa made it through to the championship match but lost to Pomona's Michael Gomez. Senior Eric Ruoff dominated Regis' Josh Redman and finished in third place. Sophomore Tony Mendieta finished in fifth place but earned the right to wrestle back to fourth, and won. Ivanusa, Ruoff and Mendieta received their first brick and will make their first appearance at the Pepsi Center.

Junior Alejandro Salazar finished in 5th place in the 130 pound bracket and Senior DeWayne Hernandez finished 6th at 125 pounds.

---
Josh Federico (103) - 2nd Place
Eric Ruoff (112) - 3rd Place
Tony Mendieta (119) - 5th Place (Wrestleback Winner)
DeWayne Hernandez (125) - 6th Place
Alejandro Salazar (130) - 5th Place
* Sean Burroughs (140) - 1st Place
Pavlo Ivanusa (189) - 2nd Place