Qualifying a school-record five wrestlers for last season's Class 5A state tournament raised the bar for the Cherokee Trail wrestling team.
Seniors Collin Gorham, Ethan Hales, Greg Conrardy and Ben Jordan and junior Chris Buccieri combined to win four matches at the Pepsi Center and added another brick to the foundation of a maturing program.
Now in his fourth season, coach Jeff Buck believes the Cougars' bar can go plenty higher, with all five state qualifiers back — plus two other regional placers — and the home-mat advantage for regional qualifying.
"We want to increase our number of state wrestlers every year and we have a good chance to do that, especially with regionals being held at our place," said Buck, whose team started the season strong with 10 placers at the Middle Park tournament on Dec. 5.
"I think getting six to state is definitely a possibility, and we might even be disappointed with six," he added. "The kids have put the time in, and I really think they are capable of quite a bit this season."
Cherokee Trail's state appearances began paying dividends in On The Mat's preseason rankings: Buccieri (who came one win from placing last season at 103 pounds) is ranked fourth at 112 pounds, Gorham is tabbed eighth at 135 pounds, Hales is No. 9 at 152 pounds and Jordan is No. 11 in the heavyweight ranks.
Also ranked are senior Zach Buccieri (13th at 130) and junior Keith Johnson (10th at 189), regionals placers last season, and freshman Nicholas Buccieri (13th at 103).
"We feel like everybody on the team can qualify for state," said Hales, who was 29-9 and won a regional championship last season. "Most of us are seniors, so coach told us to wrestle with no regrets. The bar has really been raised, so we're going for it."
Besides experience and hunger, working in Cherokee Trail's favor is the regional home-mat advantage it will have for the second time in three seasons.
At the outset of the season, the 5A Region 4 tournament on Feb. 12-13, 2010, seems hospitable for Aurora's four teams, Cherokee Trail, Hinkley, Overland and Regis Jesuit, as only two of the 16 teams in the group — No. 4 Loveland and No. 7 Chaparral — were ranked in On The Mat's preseason top 15.
The Cougars also expect to contend for the Centennial League championship, and they'll have to beat Grandview — one of the few teams to defeat Cherokee Trail in a dual match last season — to do it.
Veteran Wolves coach Greg Maestas has been adept at developing young wrestlers in the past. He'll have to do an even better job of it in his 12th season after graduating a group that included Eric Wilson, who wrestled for a state championship the past two seasons.
With potentially the most young wrestlers in the starting lineup since the first few years after the school opened in 1997 and just one returning state qualifier, the Wolves weren't among the top 15 teams, according to this season's On The Mat preseason rankings, for the first time in a decade.
Only senior John Godin has wrestled at the 5A state tournament at the Pepsi Center. Godin went 2-2 at state to cap a 33-12 season, coming a win shy of placing. He is ranked sixth in the state at 119 pounds in the preseason.
Godin, junior Josh Federico at 103 pounds and sophomore Sean Burroughs at 125 pounds form a strong backbone in the lower weights. Federico, who went 13-7 last season and took fifth at regionals, is ranked ninth, while Burroughs — who was 12-3 before an injury ended his season early — is tapped 11th.
A host of juniors, including all-league performer Jacob Fisher at 160 pounds, will be tested early and often during a brutal schedule that includes tournament appearances at Arvada West and the state's top annual meet, the Top of the Rockies.
"Our mantra this season is that everything green must grow; we're going to be young, but this is a group that's going to work," Maestas said. "If we can just get some of them downtown, it could really pay off next year."
Regis Jesuit graduated a pair of two-time state qualifiers in Zach Atencio and Powell Slinkard, but coach Adam Reid returns the second-most state qualifiers among city teams in seniors Andrew Onorato and Gordie Pisciotta and sophomore John Crowley. All three are ranked in the preseason top 10 at their respective weights.
Crowley took sixth at 152 pounds last season, capping a season in which he went 22-5 overall despite missing five weeks with a shoulder injury. He is ranked third at 160 pounds coming into the season.
Pisciotta (31-9) won a consolation match at 171 pounds and Onorato (28-10) was 0-2 at 135. They are ranked sixth and eighth, respectively, at 171 and 145 pounds.
Aurora's other returning state qualifiers are scattered among four teams: senior LaDaris Mungin (Gateway), senior Gage Fell (Eaglecrest), senior Hunter McGuinnis (Rangeview) and junior William Montrey (Aurora Central).
Mungin was part of a group of four qualifiers for Gateway that won nine matches and tied for 20th at last season's state tournament, which marked the program's best result in several years.
Three of those wrestlers, including placers Justin Freeman and Brent Willis, graduated, so two-time state qualifier Mungin ascends to the leadership role on a team that wrestles for its third new coach in three seasons in Nick Chapla.
Mungin pulled off the upset of the first round last season, knocking off Pine Creek's Ely Martinez — who was 25-1 — but lost twice in the consolation bracket to finish 32-10. Mungin, who has 63 wins over the past two years, is ranked sixth at 135 pounds.
Junior 119-pounder Branden Muniz is a returning regional placer who gives the Olys another rock along with seniors David Anderson and Lucas Wieman.
Like Mungin, Montrey is seeking his third state trip for Aurora Central. Montrey went 27-7 last season and won a match at state for the first time before losing to Cherokee Trail's Buccieri in the consolation bracket. He's ranked fifth in the preseason at 112 pounds, though he may return to the 103-pound slot he's had the past two years.
Trojans coach Conrad Parra has the most overall experience he's had in five seasons, which could pay dividends come regional qualifying, which will take place at Aurora Central.
Experience is also in abundance at Rangeview, where coach Tim Corby's team has a quiet leader in McGuinnis, who went 0-2 last season (both against Aurora opponents) at the Pepsi Center and was 19-16 overall.
Fell is back for Eaglecrest following a 33-11 season and is ranked eighth at 152 pounds. The Raptors also have two regional placers back and got a transfer with some state experience in Dustin Brown, formerly of Cherokee Trail and Denver East.
Hinkley coach Andy Ventura believes his junior-heavy team could make a big move forward.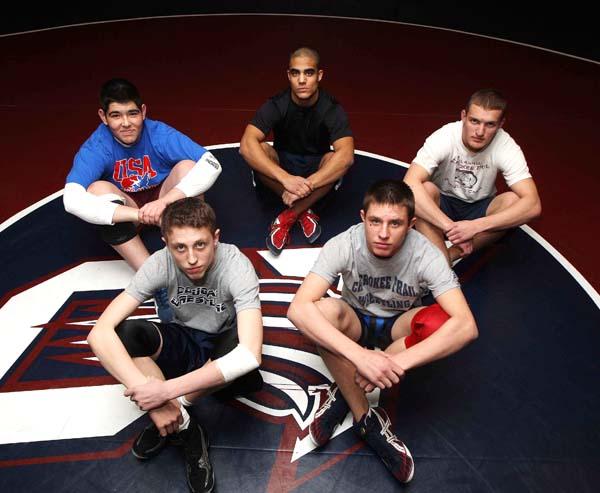 The Cherokee Trail wrestling team has all five of its Class 5A state tournament qualifiers back this season, clockwise from top right, senior Greg Conrardy, senior Collin Gorham, junior Chris Buccieri, senior Ben Jordan and senior Ethan Hales. The Cougars play host to the 5A Region 4 tournament on Feb. 12-13, 2010, which could help them take an even bigger group to the 5A state tournament at the Pepsi Center. (File photo by Heather A. Longway/The Aurora Sentinel)


2009 CLASS 5A WRESTLING REGIONALS

Region 1 (at Heritage High School), Feb. 12-13, 2010

Aurora team: Grandview

Other teams: Abraham Lincoln, Arapahoe, Centaurus, Coronado, Doherty, Durango, Fairview, Fruita Monument, Heritage, Montbello, Rampart, Rocky Mountain, Standley Lake, Westminster

Region 2 (at Adams City High School), Feb. 12-13, 2010

Aurora teams: Rangeview, Smoky Hill

Other teams: Adams City, Air Academy, Chatfield, Columbine, Fort Collins, George Washington, Highlands Ranch, Horizon, Legacy, Monarch, Mountain Range, Mountain Vista, Ponderosa, ThunderRidge

Region 3 (at Aurora Central High School), Feb. 12-13, 2010

Aurora teams: Aurora Central, Eaglecrest, Gateway

Other teams: Arvada West, Central of Grand Junction, Cherry Creek, Dakota Ridge, Denver East, Grand Junction, Liberty, Northglenn, Pine Creek, Pomona, Poudre, Sand Creek, Thornton

Region 4 (at Cherokee Trail High School), Feb. 12-13, 2010

Aurora teams: Cherokee Trail, Hinkley, Overland, Regis Jesuit

Other teams: Bear Creek, Boulder, Brighton, Chaparral, Denver South, Douglas Co., Fountain-Ft. Carson, Green Mountain, Lakewood, Loveland, Palmer, Ralston Valley

Class 5A state tournament, Feb. 18-20, 2010, at Pepsi Center