Wrestling: Grout tops Wilson for 119-pound championship
Grandview senior falls to 1-1 in state finals at Pepsi Center
By COURTNEY OAKES
The Aurora Sentinel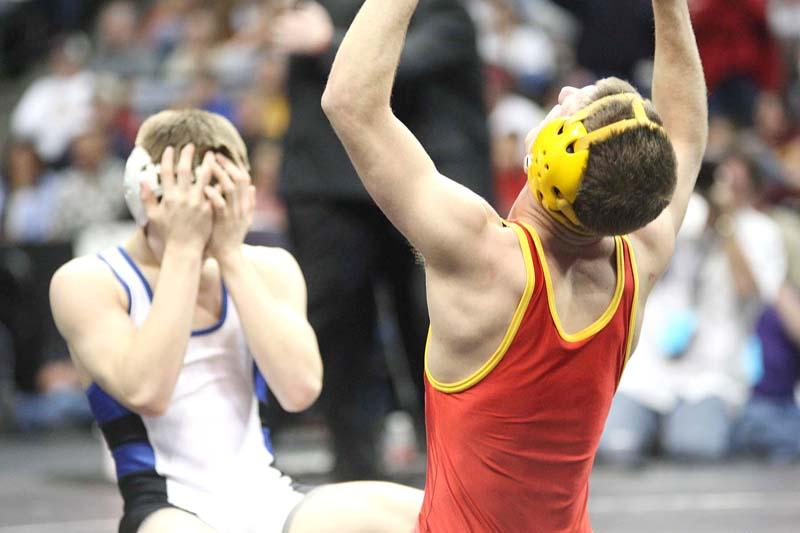 Grandview's Eric Wilson, left, sits with his hands over his face after losing to Northglenn's Philip Grout 5-3 in the 119-pound state championship match at the Class 5A wrestling tournament Feb. 21 at the Pepsi Center in Denver. (Heather A. Longway/The Aurora Sentinel)
DENVER
| Afterwards, Eric Wilson didn't remember anything about his 119-pound state championship match with Northglenn's Philip Grout.
The Grandview senior missed a heck of a match during the finals of the Class 5A state wrestling tournament Saturday night at a packed Pepsi Center, though he came out on the short end of a 5-3 decision that denied him a second straight state title.
Grout scored four points in the first period to take the lead and held on for the rest of the rematch of wrestlers that met for the 112-pound title in 2008 to deny Wilson — who was seeking to become Aurora's first two-time state champion since Overland's Dale King won at 152 pounds in 1994 and 160 pounds in 1996. Wilson finished with a 43-5 record.
"I don't really remember the match; the last thing I remember was warming up," said Wilson, who finished his prep career with four state tournament appearances, a third-place at 103 pounds as a sophomore, last season's state title and a runner-up finish as a senior.
"I really wanted to go out and get the first takedown at the start, but I just really don't know what happened," he added. "I guess I just couldn't make it happen at the end. Congratulations to Phil, he's a great wrestler."
Both wrestlers went into the match looking for the first takedown and it was Grout — who also defeated Wilson in the final of the Arvada West Invitational earlier this season — that got it with 50 seconds left in the first period. Wilson needed just five seconds to tie the match at 2-2 on a reversal, but Grout worked a two-point reversal of his own seconds later to take a 4-2 advantage.
Wilson pulled within 4-3 with a second-period escape and looked to move into the lead with a takedown. He couldn't turn Grout and had to give up an intentional escape point to get a chance at a tying takedown, only to run out of time.

"Both kids wrestled solid, we just couldn't find an opening to get that last takedown," said Grandview coach Greg Maestas, who was looking for the fifth state championship in program history.

"He was ready and had a plan, we just couldn't get that last takedown," Maestas added. "Eric had a good career and he's a great kid."

Wilson — who will wrestle at the University of Missouri next year — headlined five Aurora placers to come out of 31 state qualifiers.

Gateway senior Justin Freeman took fourth at 152 pounds, Grandview senior Penn Wade came in fifth at 215 pounds and Gateway senior Brent Willis and Regis freshman John Crowley took sixth at 145 and 152 pounds, respectively. All four were first-time placers.